Five innovative manufacturing companies were recognized by the North Carolina Manufacturing Extension Partnership, with Service Thread receiving the 2016 Leadership in Workforce Development award.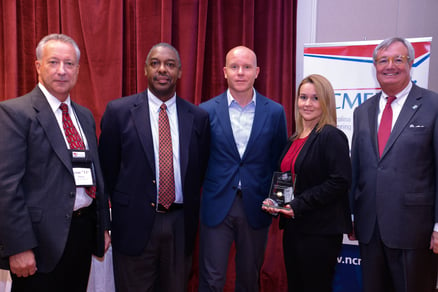 Service Thread has been named the recipient of the 2016 North Carolina Manufacturing Extension Partnership (NCMEP) Leadership in Workforce Development award presented at mfgCON in Greensboro, NC. With over 10,000 manufacturing companies in North Carolina, only five were selected as leadership award recipients. NCMEP recognizes manufacturers for their commitment to the North Carolina manufacturing sector, as proven by outstanding performance in the areas of workforce development, developing markets, continuous improvement, sustainability and overall excellence.
Service Thread was selected as the recipient of the leadership award for workforce development because of our team's ability to recognize the evolutional path of processes within our industry and the need for workforce adaptation. By recognizing the changes in technology, equipment, processes and automation, we have put actions into motion that have helped our workforce gain the skills needed to allow the business to evolve.
"The investment of time and money directly into our workforce has allowed the company to pursue more advanced manufacturing, and increased gross margins while simultaneously increasing the average hourly rate by more than 25 percent," said Jay Todd, Chief Operating Officer for Service Thread. "We're continually working to engage all employees and see the development of our workforce as a key element in our strategic plan."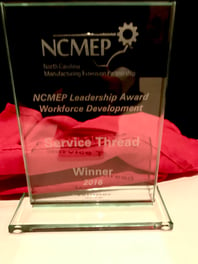 Through partnership with Richmond Community College, The University of North Carolina at Pembroke and St. Andrews University, our employees can gain higher Career Readiness Certificates, technical degrees, four-year degrees and master's degrees. Additionally, the Employee Education Assistance Program pays 100 percent of books and tuition for qualified associates in fields related to the company's work. In 2015 alone, Service Thread paid over $100,000 in education expenses for our employees.
Over the past year, one Service Thread employee completed an adult high school diploma at the age of 62 and four employees gained their MBA graduate degrees while working full time. The results of our workforce development initiatives have been dramatic and will continue to have a tremendous impact on the company's overall workplace skill level and innovative outlook.
We are honored to be the recipient of the 2016 NCMEP Leadership in Workforce Development award.