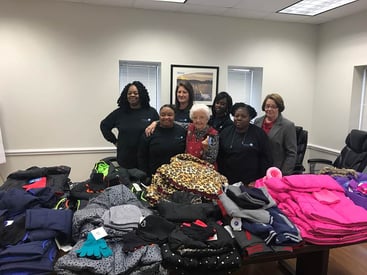 More than 15 million children (nearly 1 in 5 kids) live in poverty in the United States. The unfortunate reality is that children in our community are not exempt from this staggering statistic. One organization that has made it their mission to provide support for those in need is Onslow Community Outreach and the Christmas Cheer program.
Thirty-five years ago, community ministers wanted to avoid duplication of efforts at Christmastime and that led to the development of Onslow Community Outreach's Christmas Cheer program. Volunteers for the program collect and organize donations including food, toys, monetary donations and more. Items are then distributed to children and families in need throughout the Onslow community.
The Service Thread team wanted to come together this holiday season to support the incredible mission of the Christmas Cheer program and make an impact on those most in need. With each employee donating at least $10, the Service Thread team raised more than $700. The contributions allowed the team to purchase 36 coats, as well as several gloves, hats and toboggans that will be donated to the Christmas Cheer program for distribution to area children.
We are not only grateful for the hard work our team contributes each day, but for their giving hearts and desire to make the community in which we live a better place.
Learn more about the great work of the Onslow Community Outreach Christmas Cheer program here.