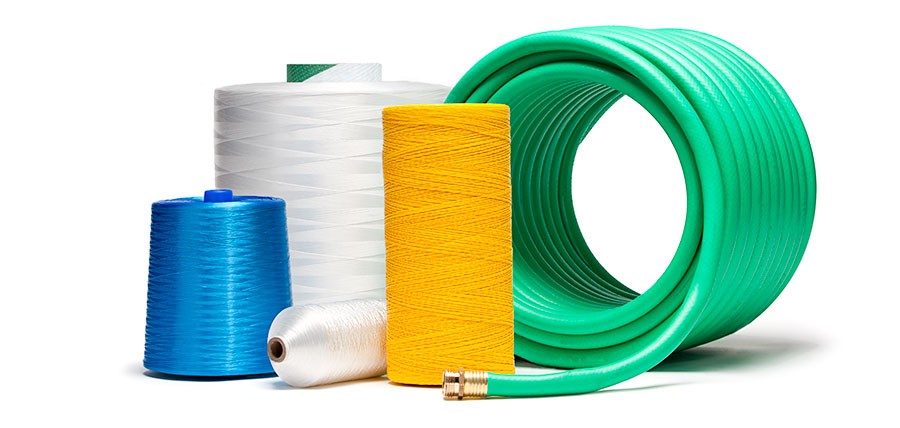 Our thread helps hose manufacturers boost productivity.
On the factory floor, high speeds and efficiency are key. Every minute of downtime you can eliminate translates to increased revenue.
By working closely with you, we're able to bring new approaches and materials to your process to increase your efficiency. We take in-house spool winding out of your hands and into our own so you can focus on your area of expertise—making hose. We provide high-density wound cones, which offer superior package integrity so you can run yarn at the highest processing speeds possible.
With our eye on the future, we adapt to the global ebb and flow of available raw materials by discovering early what new materials might work better for you. For example, to cope with the dwindling availability of low-shrink, low-elongation rubber hose product, we got a jumpstart on evaluating potential new sources of material for our partners.
How will you use our thread and our service?
We'll help you discover the precise threads, sizes and sewing processes to help you create superior-quality paint hoses, air brake hoses, hydraulic hoses, beverage hoses, high-pressure hoses, sewer hose and more.
We'll customize tubes/cones/bobbins/spools to fit any type of equipment. Many of our MRG partners use our prewound flanged braider bobbins and flangeless tubes, multiple end packages and parallel wound packages. Also popular are our low-shrink, low-elongation 2 step polyesters with Isocyanate-based treatment for improved rubber adhesion.
SOME POPULAR THREADS USED IN REINFORCED MRG INCLUDE:
500DN, 840DN, 1000DN, 1300DN, 2000DN, 2600DN, 3000DN, 4000DN, Polyester on Knitter/Spiral Winder Cones
840DN, 1260DN, 1680DN on Nylon Knitter/Spiral Winder Cones
1100DN, 2200DN, 3300DN, 4400DN, 5500DN, 6600DN Polyester Constructions on Braider Tubes/Flanged Spools
Bulk Packages for Beaming
Commission Twisting and Winding of Material
Aramids – Kevlar

®

, Twaron

®

, Technora

®

, Spectra

®

, Dyneema

®
SPECIFICATIONS
Get the Service Thread advantage.
Besides custom-engineering MRG thread, we consult with you personally on a long-term basis. As your single-source partner, we're a phone call away when you need technical advice, parts replacement or machine repair.