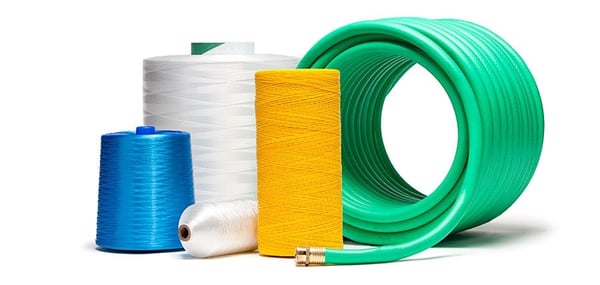 The right materials for the right job.
Service Thread is a leading designer and manufacturer for American Made industrial textile yarns and threads, with broad multi-industry experience in application of both synthetic and natural yarns to manufacturing processes.
With 70 years experience twisting, treating, and winding industrial yarns and fibers from polyester, nylon, polypropylene to Service Thread is the expert in controlling yarn tension and other variables that impact effective yarn or thread use for industrial applications. We work with industry leaders, sharing our technical thread experience and yarn processing best practices, resulting in better product design and faster processing speeds with less waste.
Every minute of downtime costs money. We offer new approaches and materials that increase efficiency and up time for spiral winders and knitters. All of our hose yarns are engineered to run at top speed with tight product tolerances and fewer run outs. We source raw materials from global suppliers from multiple regions for a supply chain that dynamically adapts to the global ebb and flow of raw materials availability.
We provide the best reinforcement solution available for our customers applications.
Fiber Types
Nylon
Spun staple fibers - Polyester, Aramid and Cotton
Other Specialty Fibers
Size Range and Constructions
500 - 30,000 Denier.
Flat, Plied, Twisted, Multiple End material constructions available.
Isocynate Based Treatment for Improved Rubber Adhesion.
precision wound package Options for high speed processing
Cones and tubes available in a variety of sizes and dimensions.
Flanged Bobbins and Braider Tubes - Commonly used for Karg Braiders, Wardwell Braiders, and other popular brand name processing equipment.
Specialty packaging available.
Get the Service Thread advantage.
Our competitors sell yarn products, but we offer a full-service experience. We don't send out a catalog of products and encourage you to buy today; we want to learn about what you are using, why you are using it, and how it fits into your product. Our goal is to provide our customers value beyond what they are receiving now, and to help the industry with innovation in products and processes. Contact us for technical advice, material support and process improvement.