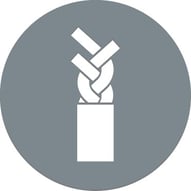 As a primary supplier to both the thermoplastic hose and wire and cable manufacturing industries, Service Thread has worked with many companies using reinforcement yarns and protective textile threads with their braiding equipment. From what we see in the industry, we've created this quick reference list of some of the best yarn braiding machinery manufacturers:
Karg Corporation based in Tallmadge, OH, provides a number of great machines capable of braiding treated and untreated textile reinforcements.
24-H, 24-HX, 24-VS and 24H/24H Braiding Machines
36-H, 36-V Braiding Machines
* See our blog on ways to improve Karg braider performance
Mayer Industries Inc., based in Orangeburg, SC, provides
Carrier braiders for hose applications. Their MR-15 series covers hose ID's from 5mm (3/16") up to 60 mm.
Haul-off units: MC-2 and MC-3 units, with optional 7, 11 and 15KW motors.
Magnatech International, L.P, out of Robesonia, PA, supplies braiders, spiral winders and haul-offs.
Rotary Braider, RB-2, can braid aramid, nylon and polyester yarns, as well as varieties of wire. No need to use different carriers for yarn and wire. Can back braid, as well, in reverse mode. Doubles maypole system production.
Maypole Braider, 225-II
Haul-off, H Series, up to 50 horsepower.
Wardwell Braiding of Rhode Island, was founded in 1911, and has been in the braiding business from the start. They added specialty braiding machines in the 1970s. Some of their machines include:
CB1 Maypole Braider for large diameter hose reinforcement and shielding of cable
B10 Maypole Braider for wire and cable, shoe laces, elastic cords, and fishing line, among other applications.
Harness Braider for wire
There are many different types of braiding machine manufacturers, so these companies are only some of the manufacturers that can provide braiding equipment for the hose, wire and other industries. If you have questions about the best textile yarn fibers and constructions for these braiders and winders, don't hesitate to contact us directly or leave a comment below.
About Service Thread:
At Service Thread, we design, develop and manufacture textile yarns and have a broad, multi-industry experience in application of synthetic and natural yarns to diverse manufacturing processes, including fluid hose manufacturing, wire and cable manufacturing, geotextile fabric manufacturing, and industrial sewing.
Download our guide below for helpful tips on best practices and the latest processing tools available to help control yarn tension and other variables that can affect the application of binders, ripcord and strength member into your manufacturing process.