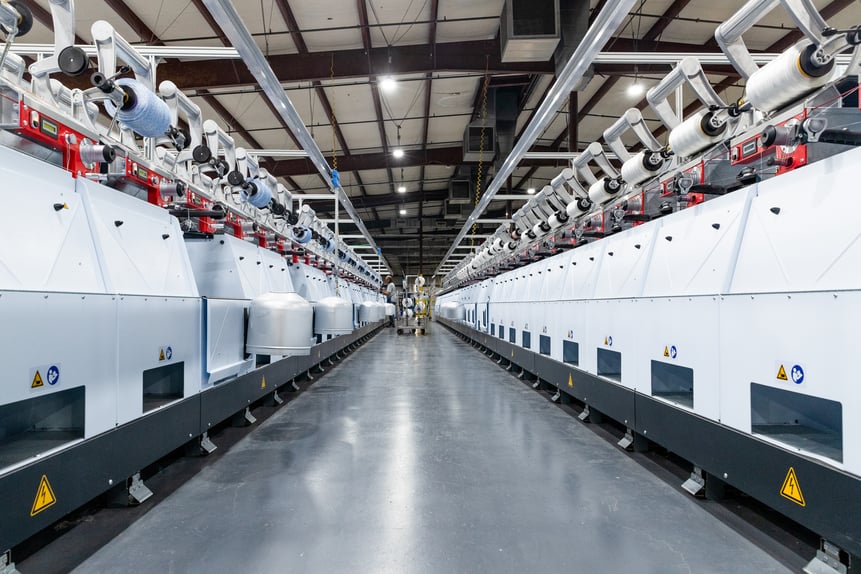 Exceptional Materials and Convenient Service
Although we are primarily known for supplying industrial thread and yarn, Service Thread is also heavily engaged in engineering, design, and application of various fiber yarn types into twisted, treated, and/or wound constructions for industries including thermoplastic hose, wire and fiber optic cables, synthetic web sewing, and high strength bonded sewing threads.
We offer process-controlled, high-speed, two-for-one package twisting, as well as precision-metered winding to produce twisted aramid, nylon, polyester, and other fiber constructions that customers struggle to make in-house relying on outdated or inefficient equipment.
You'll notice immediate reductions in non-value-added inventory carrying costs, labor costs, yarn waste, and manufacturing cycle time by eliminating in house processing and choosing Service Thread as your domestic supplier for full service twisted yarn.
Industrial Applications
Service Thread's clients use twisted synthetic threads and yarns as hose reinforcements, water blocking strength members, and for weaving and sewing applications.
Plastic and rubber hose customers use Service Thread's treated and soft yarns twisted and wound onto bulk tubes or braider and spiral winder cobbs.

Wire and cable customers use twisted water blocking and multiple end wound aramid strength members and ripcords.

Flexible intermediate bulk containers (FIBCs) and OM bags use Service Thread polyester and polypropylene threads for strong, seaming and bag closing.

Geotextile fabrics call for polypropylene and polyester threads for heavy seam sewing on both filter and dewatering bags.

Lighter-sized thread is used for shade cloth and geotextile fabric panel seaming.
Why Choose Service Thread for Your Industrial Twisting Needs
A major benefit to our customers is our in-house product design for industrial yarns using advanced technologies from manufacturing to processing applications. Unlike commission convertors, Service Thread selects and sources the fibers and yarns from around the globe and provides an end-to-end solution for your twisted yarn needs.
Why should you choose Service Thread for industrial twisting services?
Decreased labor hours with shorter manufacturing cycle time:

Working with Service Thread streamlines the production process. This eliminates the extra steps required for plying and or twisting in-house, which allows customers to use labor hours and overhead time to focus on other things, like producing the additional footage of hose or wire needed to meet revenue and business growth objectives.

A distinct cash flow advantage:

Customers who work with Service Thread can expect improved cash flow thanks to reduced inventory, lowered maintenance, and fewer utility costs. We eliminate the need for the resource-draining support of the end-of-life twisting equipment. You get durable, expertly crafted industrial thread and yarn, without the maintenance, upkeep, or cost of creating it yourself.

Reduced inventory costs and warehousing expenses:

Service Thread offers a weekly shipment supply plan to provide you with only as much industrial yarn or thread as you need at any given time. We always maintain a set amount of your custom inventory of twisted stock ready to release for next-day shipment. This supports your ongoing production plans without needing to pay to store additional materials.

Uniform twisted package design:

Every package of twisted yarn from Service Thread is metered to allow for minimum waste and maximum run times with even run outs.

Decreased fiber waste:

Fewer in-process steps in house eliminates costly yarn and fiber wastes which means more yield from twisted yarn purchased as well as less product ending up in landfills and time saving from waste handling.

Productive space utilization:

When our customers opt for Service Thread twisted products, they can make better use of their space by repurposing twisting and support equipment space to downstream value-added weaving, braiding, or winding operations.

Eliminate maintenance cost for in-house twisting:

Older twisters require regular preventative maintenance. Without performing this maintenance, product quality is eventually severely impacted by the loss of twist control. Those who use Service Thread's twisting services no longer need to spend time or money on maintenance services for twisting machinery.

Product process control:

All of Service Thread's twisted products are built under our ISO 9001-2015 QMS and supplied on color-coded tubes to prevent product mixing and increase accuracy and safety.
About Service Thread's Twisting Services
Service Thread's twisting services are designed to take the time, cost, and burden of twisting—and twisting machinery maintenance—off our customers. Our twisters use the latest technologies and surpass both older ring twisting and older two-for-one twisters, resulting in a superior final product.
We are experts in the field of industrial yarn twisting and industrial thread twisting. With the newest, most advanced equipment for twisting, winding, and yarn conversion, we'll simplify your processes, which can result in less time and money spent on processes that don't add value or drive profits.
Looking for More Information?
At Service Thread, we're always here to serve you as an expert resource in the industry. If you have additional questions about industrial yarn and thread twisting, please contact us today, or take a look at our information-packed blog for more information.