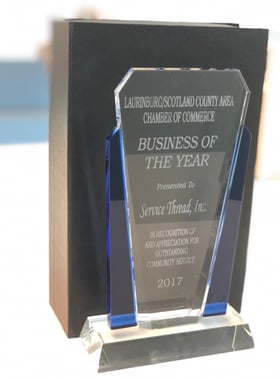 Service Thread announced today that it has been named the recipient of the 2017 Business of the Year by the Laurinburg / Scotland County Chamber of Commerce. Selection criteria for the award required candidates be a Chamber member, be established in the Scotland County area, maintain successful business practices, support and participate in community events and demonstrate innovation and job creation in their business.
"Scotland County is fortunate to have a community partner like Service Thread because of the culture they are creating," said Chris English, Director of the Laurinburg Scotland County Chamber of Commerce. "There is no question how much they value each of their employees and the community as a whole."
Elements that contributed to Service Thread being selected as 2017 Business of the Year included leading an evolutional path of processes and technology within their industry, commitment to workforce adaptation and advancement, and maintaining a focus on needs within the community to offer dedicated resources and support. As a participant in United Way campaigns, presenting sponsor of Scotland Memorial Foundation's FundRun, and contributor to Christmas Cheer, Service Thread extends a passion for service both inside their facilities and out.
"We are honored to be selected as the 2017 Business of the Year and appreciate the support we receive from the Laurinburg / Scotland County chamber and the many organizations who we partner with in the community," said Jay Todd, Chief Operating Officer for Service Thread. "We remain committed to investing time and money directly into our workforce to pursue more advanced manufacturing processes, as well as to ensure our employees, their families and fellow community members thrive.
For more information about Service Thread and the Laurinburg / Scotland County Chamber of Commerce 2017 Business of the Year award, visit www.ServiceThread.com.
About Service Thread
Service Thread is a global leader in the design and development of industrial thread and engineered yarn. Operating a research and production facility and a corporate and distribution facility totaling over 225,000 square ft. in Laurinburg, NC, Service Thread's 130 employees specialize in emerging technologies and cutting edge tools to help customers work smarter, faster and more cost efficiently.
About the Laurinburg / Scotland County Chamber of Commerce
The Laurinburg/Scotland County Area Chamber of Commerce is a non-profit, 501 (c)-6 organization. We are made up of members who make a financial commitment to the Chamber and the business community. Our members work together to improve not only the business in Scotland County but the quality of life for all residents. Our service area covers Scotland County and surrounding towns such as: East Laurinburg, Gibson, Laurel Hill, Maxton, and Wagram.