Service Thread COO Jay Todd (left) and Operations Manager Ryne Bullock review highlights from the company's second quarter.
All Associates at Service Thread took a break from working to enjoy a catered lunch while being updated with the company's progress during the quarterly meeting held Wednesday, August 1, 2018.
There was a lot to be excited about, as employees were collectively meeting for the first time in the Service Thread [King Street] facility's newly renovated interactive break room. During the last second quarter meeting held a year ago, these promises of expansion and innovation were first introduced.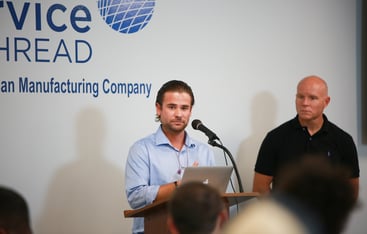 The newly renovated break room provides more space for meeting and congregating on breaks. It also has upgraded restrooms, vending, high speed Wi-fi, sound isolation and dimmable lighting. Service Thread COO Jay Todd stated that the option to provide dimmable lighting was an important extra detail. "The idea for dimmable lighting can from observing how often people turned off the lights completely in the old breakroom during lunch break hours...while we have great LED lighting in the plant environment, it was obvious that providing lower level lighting for break areas would be welcome."
In addition in the break room, Service Thread reported highlights from Q2 that included:
$100,000 of new equipment installs during Q2 2018.

Sales Revenue increased of 13.47% over the Q2 2017

Pounds Sold increased 29 percent compared to the same period in 2017.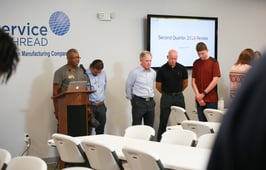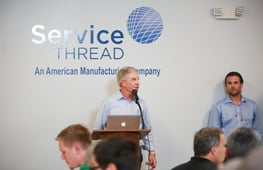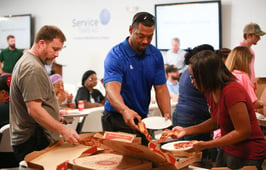 During the quarterly meeting, Service Thread's STAR award recipients were recognized. The STAR awards are given to employees who exceed expectations that are set and exemplify our core values of: DRIVE, INTEGRITY, INNOVATION, FOCUS, AND EXCEEDING CUSTOMERS EXPECTATIONS. Each quarter employees who receive a STAR award are entered in a drawing for a prize. Monetary bonuses were also given to those with perfect attendance for the quarter.