The Berry Amendment was passed in 1941 to promote the use of U.S.-sourced materials in military uses. It primarily covers tools, food, and textiles for use at home and abroad in military operations. The amendment outlines specific rules that govern how these goods are produced.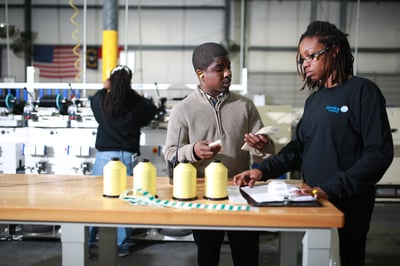 Not only does the Berry Amendment ensure our own military buys American, but it also protects our troops from unsafe materials that could be produced by foreign governments and companies. Whenever possible, the Department of Defense will opt for 100% U.S.-made textiles for the safety and security of our armed forces.
Here's a closer look at what the Berry Amendment means for textile manufacturers and other organizations that must remain compliant with it.
Rules in the Berry Amendment
The regulations spelled out in the full Berry Amendment are quite long, but we'll summarize what's most relevant for textile manufacturers other producers of products made for military use. In general, the amendment means that if you produce any type of gear or personal protective equipment (PPE) for the Department of Defense, it must be compliant.
The following items are covered under the amendment - but this is not an exhaustive list, and it's important to consult the exact wording of what's covered to be sure.
A wide variety of clothing, including outerwear, head-wear, underwear, nightwear, footwear, hosiery, hand-wear, and belts
Badges and insignia
Tents and the structural components of tents, like tarpaulins and covers
Cotton and other natural fiber products
Woven silk or woven silk blends
Spun silk yarn for cartridge cloth
Synthetic fabric or coated synthetic fabric
Canvas products
Wool, both as a fabric and within manufactured items
Equipment manufactured from or containing such fibers, yarns, fabrics, or materials listed above
The Berry Amendment applies to any purchases made by or for the U.S. Department of Defense, including purchases made by contractors and subcontractors. An agency that receives federal funding or an organization that spends money on behalf of a federal agency is probably subject to Berry Amendment Rules.
And it doesn't just apply to raw materials. If the Department of Defense will be the end user, all processing and/or manufacturing must also be done in the United States and all of the material possible must be domestically sourced.
So the theme here is that if you are working with something that could be used by the military, or is related to the expenditure of federal money, it's very likely that you'll need to make it Berry Amendment compliant. Never assume otherwise, or you could find yourself in hot water with the U.S. government.
Exceptions to the Berry Amendment
There are relatively few official exceptions to the Berry Amendment. The first overarching exception is if a government contract value is at or below the Simplified Acquisition Threshold (SAT) which is $250,000.
If you exceed the SAT threshold, you'd need to have a waiver to be exempt. In a situation with a waiver, a federal agency has decided there are special circumstances about acquiring the material that exempt you from the Berry Amendment rules.
Here is a summary of the official list of exceptions to the Berry Amendment. The following things are excepted:
Emergency acquisitions outside the United States for personnel of those activities.
Acquisitions by vessels in foreign waters.
Acquisitions of items specifically for commissary resale.
Acquisitions of incidental amounts of cotton, other natural fibers, or wool incorporated in an end product.
Acquisitions of waste and byproducts of cotton or wool fiber for use in the production of propellants and explosives.
Acquisitions of fibers and yarns that are for use in synthetic fabric or coated synthetic fabric with some specific rules involved.
The fibers and yarns are para-aramid fibers and continuous filament para-aramid yarns manufactured in a qualifying country
Acquisitions of chemical warfare protective clothing when the acquisition furthers an agreement with a qualifying country.
There is a final exception to Berry, which is that you are granted a waiver because a federal agency has determined that items grown, reprocessed, reused, or produced in the United States cannot be acquired in a satisfactory quality or quantity at U.S. market prices. This doesn't necessarily mean that there is no domestic source for the listed items, but that domestic sources can only meet 50 percent or less of total U.S. government and non-government demand.
The applicable non-available products may include:
50 denier rayon yarn
Leather, sheepskin (hair type)
Fair linen for altars
Metallic (gold) thread
Fiber of the type: Abaca, abace, agave, coir, flax, jute, jute burlaps, palmyra, and sisal
Modacrylic fur ruff
Goat, kidskins, and goat hair canvas
Rabbit fur felt
Raw & unmanufactured silk
Hemp yarn
MIL-SPEC Thread Standards and Sizes
When working with materials that are related to the Berry Amendment, you may wonder how they relate to Military Specifications, or MIL-SPEC thread standards. MIL-SPECS don't necessarily have to be Berry compliant unless specified under the rules explained above. However, the same standards are often used in discussing thread size requirements.
MIL-SPEC standards lay out the physical characteristics of thread and are a good reference point for a manufacturer that is comparing potential threads to use. Here's a quick overview of some common MIL-SPEC sizes alongside their other common thread sizes.
Thread Type
Tex Size
Ticket Number
Government Size
Yarn Construction (Denier x Ply)
Nylon
T-70
69
E
210 X 3
T-90
92
F
210 X 4
T-135
138
FF
420 X 3
T-210
207
#3
630 X 3
T-270
277
#4
840 X 3
T-350
346
#5
840 X 4
T-400
415
#6
1260 X 3
T-600
554
#8
1680 X 3
T-700
693
#10
1890 X 3
Polyester
T-70
69
E
220 X 3
T-90
92
F
220 X 4
T-135
138
FF
420 X 3
T-210
207
#3
630 X 3
T-270
277
#4
840 X 3
T-350
346
#5
1100 X 3
T-400
415
#6
1300 X 3
T-600
554
#8
1300 X 4
T-700
693
#10
2000 X 3
You can also use the Service Thread conversion calculator as a handy tool to see how MIL-SPECS line up next to other common sizes.
For more information about MIL-SPECS and the Berry Amendment, contact Service Thread. We're thoroughly familiar with government rules and will help you choose the right thread for the job.