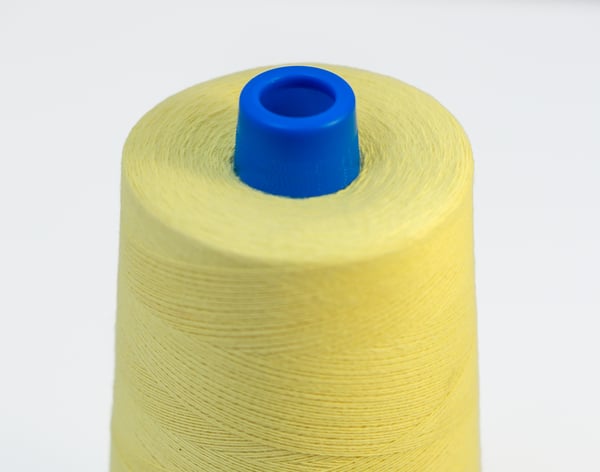 Typically Mil Spec sewing thread standards are long and divided into several sections. They define physical characteristics of thread and are a good reference point for manufacturers however, they can be confusing and its important to understand the basics. Here is a quick guide to the 8 page standard, A-A-55195 (formerly MIL-T-44100) spun para-aramid sewing threads.
A-A-55195 Explained
There are two para-aramid sewing thread standards, A-A-55220 for filament aramid sewing threads and A-A-55195 for spun aramid sewing threads. The most common spun para-aramid type used under A-A-55195 is Type I – Normal Performance. The specification also lists Type II – High Performance however this is not commonly used.
When trying to decipher what A-A-55195 is really telling you, there are a few other things to note:
There is no letter size designation for para-aramid sewing threads like there is for nylon and polyester.
Twist direction is listed as "S" in the singles yarn and "Z" in the plied yarns unless otherwise specified.
There are no specific twist levels listed and material should be twisted to achieve desired properties
Material should be soft, not bonded and have the minimum amount of lubricant needed to facilitate sewing.
The chart below has been created as a reference to help clearly explain the material construction as compared to what is listed in Table I of the specification.
Government Spec A-A-55195

Type I - Normal Performance

Construction and Size Reference

A-A-55195 Size and Property Listing

Thread Construction (Cotton Count)

Thread Size (Tex)

Nominal Tex

Minimum Strength (lbs)

Minimum Yield (yds/lb)

Elongation Max (%)

30/2

Tex 35

39

6.0

11,970

6

30/3

Tex 50

59

8.5

7,980

6

30/4

Tex 70

78

12.0

5,700

6

30/5

Tex 90

98

16.0

4,560

6

30/6

Tex 105

118

19.0

3,990

6

30/7

Tex 135

138

22.0

3,420

6
Most spun para-aramid yarns are supplied in their natural yellow color. There are package dyed options available if required, however the strength is typically lower than in its natural state.
If you need assistance choosing a spun para-aramid yarn, our expert sales team are ready to assist you. Reach out to us today to learn more about applications, specifications and size requirements.