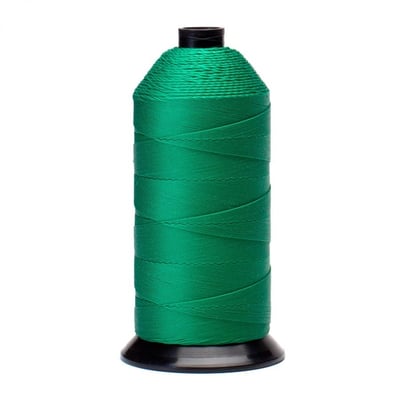 Mil Spec or Military Standard sewing threads are typically made in the USA and created to meet certain basic quality standards. Mil-Spec standards have been adopted by many industrial thread users in the US. Nylon is one of the most widely used thread fiber materials used in heavy duty industrial sewing applications. Let's take a look at A-A-59826, the United States Department of Defense product standard for nylon thread to be used in machine sewing and hand sewing. You can find the complete standard here, so I'll focus on Types I, II, and III here, since these are the most widely used for industrial machine sewing.
Thread Types:
Nylon thread is designated as one of seven types by A-A-59826. These types describe the basic construction of the thread, or how the thread is assembled or manufactured:
Type I – Twisted multiple cord, cable twisted, not bonded, soft finish.
Type II – Twisted bonded multiple cord
Type III – Bonded mono cord
Classes:
There are two classes listed as part of the standard that address thread finish:
Class A – General Purpose
Class B – Non-wicking for Type I or Type II.
Industry part numbers often contain portions of the Mil Spec standard. Here is an example of a nylon part number:
A-A-59826-II-A-FF
Standard – Type – Class – Gov't Size/Subclass
So this product would be an industry item 138 Bonded Nylon cabled twisted and finished for general use.
Using this information you can look for the parts of the standard in a part number to decode or interpret what you need. Note: you might see the various parts of the standard (type, class, and sizes) rearranged in different order from one company part number to another. Use the standard information and you can figure it out with a little work.
While the Mil Spec standard is useful to know, this standard, last updated in 2009, is fairly basic in regards to physical properties. Most thread manufacturers easily meet and in fact exceed the Mil Spec thread standards, and a quality manufacturer will typically have their own product standards that are more detailed, easier to understand, and better for ensuring quality thread performance.
So if you need Mil Spec threads or help in setting up a product specification, email us at info@servicethread.com or contact our technical group – We're here to help!