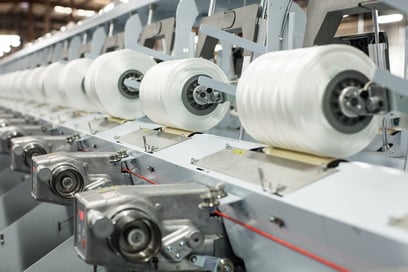 Polyethylene is the most commonly used plastic in the world, but how do you know if it's the right yarn for your application? Consider the attributes of ultra-high-molecular-weight polyethylene (UHMWPE) - a very tough subset of polyethylene that has a strength to weight ratio 8-15 times greater than steel.
Commonly known by the trade names of Spectra® and Dyneema®, UHMWPE plastics and yarns are primarily used for:
Ballistic uses (Body Armor, Armor Plating)
Sports and leisure (skydiving, skiing, boating, fishing)
Ropes and cordage
Bulk material handling
Porous parts and filter
Automotive industry
Chemical industry
Food processing and beverage machinery
Mining and mineral processing equipment
Manufacturing equipment
Civil engineering and earthmoving equipment
Transport-related applications, including truck trays, bins and hoppers.
As you can see UHMWPE has a diverse range of uses from manufacturing to medical as well as in wire and cable applications. This is due to its long list of benefits which meet specific requirements for many different jobs.
The advantages of UHMWPE include, but are not limited to:
Excellent resistance to stress and high resistant to cracking
Abrasion wear resistance – 15 times more resistant to abrasion than carbon steel
Its 40% Stronger than Aramid yarns
Its strong chemical resistance - highly resilient to most alkalis and acid, organic solvents, degreasing agents and electrolytic attack
It's non-toxic
Excellent dielectric properties
Self-lubricating – very low coefficient of friction (comparable to PTFE)
Non-staining
FDA approved for use in food and medical applications
Low specific gravity – will float in water
While this may sound like an ideal material, there are also a few disadvantages you should be aware of. UHMWPE has a lower melting point (297° to 305° F) than many common polymers, therefore it's not suitable for high temperature applications. It also has a low coefficient of friction which can be a drawback depending on the application. UHMWPE yarns can also develop "creep" under a constant load, which is a process of gradual elongation of the fibers. Some people may consider the price to be a disadvantage, however when it comes to UHMWPE, less is more. Given the strength of this material you would not need to buy as much as you would with other materials.
Still wondering whether or not UHMWPE is right for your product? Service Thread develops and delivers engineered yarns and sewing threads to solve product and processing problems for our customers. Proactive, personalized service is wound into everything we do. Contact us to find out what fiber is best for your application.
Information on other high performance fibers: