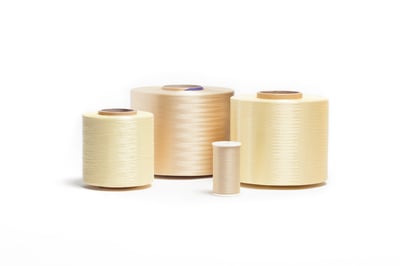 Some of the higher priced industrial yarns and threads available are made from Dupont™ Kevlar® fiber. As the pioneer aramid fiber, DuPont™ Kevlar® is specified for some product applications with a long qualification process, however, some industrial applications can benefit by looking at alternative aramid yarns and threads.
Other para-aramid yarns can be used as substitutions for Kevlar® at a lower cost. These include Teijin's Twaron, Teijin's Technora, Kolon's Heracron, and Hyosung's Alkex. These alternative fibers can achieve comparable, or in some cases identical, results as Kevlar®. A side-by-side comparison of key properties of these various options is listed in the table below:
Kevlar

®

and Para-aramid Filament Yarn Alternatives Compared
Manufacturer

Dupont

Hyosung

Kolon

Teijin

Teijin

Trade Name

Specification

UofM

Density

(g/cm³)

1.44

1.44

1.44

1.44 - 1.45

1.39

Tenacity

g/den)

23

23

23.0-24.0

18.7 - 28.3

28.3

Modulus

(Gpa)

70.33

70 - 102

83-109

60 - 120

74

Elongation @ Break

(%)

3.6

2.8 - 4.2

2.8 - 3.6

2.2 - 4.4

4.5

Moisture Regain

(%)

7

4.5

not avail

3.2 - 5.0

1.9

Decomposition

(⁰C)

427- 482

500

not avail

500

500

(⁰F)

800-900

932

not avail

932

932
So general properties of the other Aramid fiber options are quite similar to Kevlar®. Generally speaking, any of the Aramid yarns listed above can be used to manufacture similar sewing threads that will meet and exceed Mil-Spec A-A-55220 (formerly MIL-T-87128). These fibers can also be used as replacements to Kevlar® to achieve the similar results in other applications, including rip cords for wire and cable, reinforcement yarns in hose manufacturing and other specialty applications.