Many industries use cord and tape in their products, like motor manufacturing,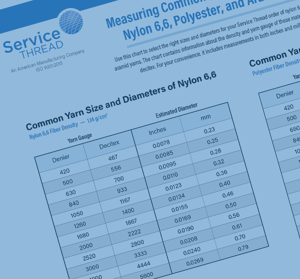 automotive, aerospace, and recreational sports. There are also many military uses of cord and tape which cover mil-specs A-A-52080, 81, 82, 83, and 84.
Industrial cords and tapes are selected based on dimensions and physical properties to match the intended end-use. Some common uses include stator lacing cords and tape and ripcords - two different applications that both require the specific sizes to work for manufacturing and product performance.
In this blog post, we'll talk about:
Yarn or thread gauge and terms
Yarn count systems and dimensions
Ways to measure
Accuracy of measurement
Terms for Measuring Cord and Tape
Both lacing cord and lacing tape are measured in yarn count according to the diameter, width, and thickness respectively. The terms thread gauge and yarn gauge refer to the diameter of a cord or the width and thickness of a tape. Gauge is the measurement of size and the larger the gauge, the bigger or heavier the material is.
Textile Cords and tapes are also sometimes referred to by breaking strength and/or shrinkage. The breaking strength or tensile strength is how much force the cord or tape can take before a break. The shrinkage is the percentage of loss due to twisting and contraction.
Relationship of Cord and Tape Dimensions to Yarn Count Systems
There is a direct correlation between the yarn count system and a particular lacing cord or lacing tape's diameter, thickness, and width. Yarn count systems are based on the weights of the materials.
A thicker yarn will have a lower cotton count but a higher denier or dtex. This can be confusing but it all depends on the measuring system you're using so we offer this yarn calculator you can use if needed to convert between various yarn count systems.
Ways to Measure
Measure the diameter by using a digital thickness gauge with a 10mm diameter presser foot/feeler. Cut four 3" length samples of material and lay them parallel to each other on the presser foot, spacing them closely to minimize any compression or spread of the fibers.
Lower the feeler/presser foot onto the material being measured. Raise and lower the presser foot three times onto the sample and record the measurement. Average the results from the three readings.
Measure the width using digital calipers. The material will be measured in a pre-tensioned state to determine the accurate width. Cut three 18" samples of material to be tested.
Place one end of the material in a stationary clamp and the other end of material over a roller or fixed bar. Tension the material by attaching a determined pretension weight, making sure it is suspended in the air.
Zero out the calipers and carefully set the fixed end on the edge of the material, while carefully moving the adjustable end against the other edge of the material. Record three measurements at least 1" apart and repeat these steps for the remaining samples. Average the results from the three samples.
Accuracy of Measurement
To obtain the thread diameter measurement Service Thread utilizes a digital thickness gauge that includes a set of ½ inch diameter disk contacts. This type of measuring device is better suited for measuring textile material and provides accurate measurement for the various yarn constructions.
While measuring with accuracy is difficult, it's achievable with the right equipment and instruction, so we're offering the guidelines below to get you started down the right path.
Common Yarn Size and Diameters of Nylon 6,6
Click here to download your copy of the chart below to help you select the right sizes and diameters for your Service Thread order of nylon 6,6, polyester and aramid yarns.
Nylon 6,6 Fiber Density = 1.14 g/cm3
Yarn Gauge

Estimated Diameter

Denier

Decitex

Inches

mm

420

467

0.0078

0.23

500

556

0.0085

0.25

630

700

0.0095

0.28

840

933

0.0110

0.32

1050

1167

0.0123

0.36

1260

1400

0.0134

0.40

1680

1867

0.0155

0.46

2000

2222

0.0169

0.50

2520

2800

0.0190

0.56

3000

3333

0.0208

0.61

4000

4444

0.0240

0.70

5040

5600

0.0269

0.79
Common Yarn Sizes and Diameters of Polyester
Polyester Fiber Density = 1.38 g/cm3
Yarn Gauge

Estimated Diameter

Denier

Decitex

Inches

mm

420

467

0.0071

0.21

500

556

0.0077

0.23

660

733

0.0088

0.26

840

933

0.0100

0.29

1000

1111

0.0109

0.32

1100

1222

0.0114

0.34

1300

1444

0.0124

0.37

1500

1667

0.0133

0.39

1680

1867

0.0141

0.42

2000

2222

0.0154

0.45

2600

2889

0.0176

0.52

3000

3333

0.0189

0.55

4000

4444

0.0218

0.64

5000

5556

0.0244

0.72

6000

6667

0.0267

0.78
Common Yarn Sizes and Diameters of Aramid Yarn
Aramid Fiber Density = 1.44 g/cm3
Yarn Gauge

Estimated Diameter

Denier

Decitex

Inches

mm

400

444

0.0067

0.20

840

933

0.0098

0.29

1000

1111

0.0107

0.31

1420

1578

0.0127

0.37

1500

1667

0.0131

0.38

2000

2222

0.0151

0.44

2250

2500

0.0160

0.47

2840

3156

0.0180

0.53

5680

6311

0.0254

0.75

7100

7889

0.0284

0.84
For More Information About Finding Cord and Tape Dimensions
Cords and tapes can be produced from inexpensive polyesters to high-tech industrial products like DuPont™ Nomex®, DuPont™ Kevlar®, 3M™ Nextel™ Ceramic Fiber, Ryton®, Halar®, Kuraray Vectran™, Spectra®, Dyneema®, polytetrafluoroethylene (PTFE), polyether ether ketone (PEEK), and more.
If you need additional help determining your cord and tape dimensions and selecting the perfect products, Service Thread can help. Service Thread offers cord and tape in many dimensions and a full range of finishes. Contact us for help making the right selection.