Mil-Specs: The Guide to Military Specifications for Industrial Sewing Thread
The United States military and federal governmental organizations have standards for various components for textile products. The thread standards were developed for government contracts but are commonly referenced in textiles and can be difficult to understand.
This guide explains what you need to know about multifilament Mil-Spec thread standards. It provides detailed information about specific thread types, sizes and constructions for four of the most common government Mil-Spec's for sewing threads.
Learn tips and techniques for: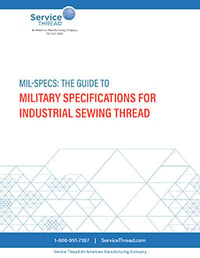 Multifilament nylon (Mil-Spec A-A-59826)
Multifilament polyester (Mil-Spec MIL-DTL-32072)
Multifilament para-aramid (Mil-Spec A-A-55220)
Multifilament meta-aramid (Mil-Spec A-A-50195B)
Comparing Mil-Spec thread to other thread types
Common size comparisons and conversions
Plus, the guide provides quick reference charts and specs that are important in understanding the basics of these Mil-Spec thread standards.
Get the guide now by filling out the form on this page.