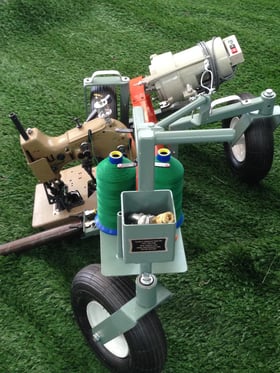 Which is the more effective method when installing synthetic turf fields: sewing or gluing? Truthfully, both methods are effective and we wanted to highlight the advantages of each:
Gluing Advantages
Installation with glue is easier
Gluing can be accomplished with an unskilled workforce, which generally means lower wages.
Savings on employee airfare, hotel, meals and expenses. For crews that travel state-to-state or nationwide, use of unskilled labor means you can pick up workers after you arrive rather than traveling with a skilled team.
Neither a technician nor a service station is needed because there is no potential for a sewing machine to break down.
Sewing Advantages
You can sew a field throughout the year. Unlike glue, there is no concern for contracting and expanding seams.
A seam is ready for service the moment it's complete. Walk on it, drive on it, work on it. There is no day's wait for it to cure as there is with glue.
Synthetic turf sewn with industrial thread cost less to deliver over time. A lot less.
Gluing vs. Sewing Artificial Turf Cost Comparison

Installation costs for gluing and sewing artificial turf seams will vary depending on the type of turf, cost of labor, cost of glue, cost of sewing supplies etc. Many turf manufacturers use in house installation crews, some outsource to other installation companies and many do both. One certainty is that fields with sewn seams are significantly less expensive and achieve as good or better results than fields with glued seams.
To give you an idea of the costs differences in sewing vs. seaming, we wanted to break it down by cost per yard using some standard unit costs of both glue and thread.
Glue
Thread
Cost for 5 Gallon Bucket of Glue

$450.00

Thread Cost per LB

$20.00

Cost Per Yard of Seam

$8.30

Cost Per Yard of Seam

$0.28
Glue can be used on long seams for athletic field installations and large residential installs. A standard 5 gallon bucket of glue is enough to seam around 54 yards of seam on artificial athletic fields and the cost for a 5 gallon bucket is around $450 which equates to around $8.30 per yard.
In comparison, thread yields around 860 yards per pound and cost around $20 per pound depending on the thread type and size. Using a Heavy Duty two thread over edge stitch sewing machine (see below), thread cost around $0.28 per yard based on using 12 inches of thread per inch of seam. This makes the cost per 54 yds around $15 compared to $450 for 54 yards of glue. As you can see when this is broken down on a per yard basis, seam stitching is much more cost effective and if installed properly, it is more beneficial because there is no concern for expanding or contracting seams caused from unstable weather conditions.
Sewing Equipment and Costs
While sewing is much more cost effective on a cost per yard of seam basis, installers do have to make an initial investment for sewing equipment before they begin to realize these savings. One of the best types of turf installation equipment for seam sewing is the 81500T Butt Seamer. This can be purchased from one of the premier turf equipment manufacturers, Textile & Industrial Sales, located in Dalton, GA. This machine is considered to be the best in the industry and includes a fully converted Union Special 81500B sewing head, mounted on a turf cart with a blower assembly. This fully converted machine costs around $10,000 and most installers use at least two machines per installation to decrease time of installs.
Sewing and gluing are the two main ways to seam artificial turf together and many installation companies prefer one over the other. Please let us know your thoughts and feel free to contact us or leave a comment below if you have any questions.
At Service Thread, we design, develop and manufacture textile yarns and threads with a broad, multi-industry experience in application of synthetic and natural yarns to diverse manufacturing processes, including industrial sewing, geotextile fabric manufacturing, fluid hose manufacturing, wire and cable manufacturing.