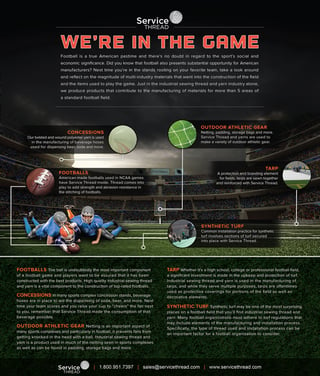 Recreational, collegiate and professional football organizations make a tremendous economic and social impact on American culture. The position that manufacturers of sporting goods play may surprise you.
As an industrial thread and yarn supplier to sports equipment manufacturers, we're proud to say that our innovative products are used to support the field, fans and players. You'll find Service Thread products from end zone to end zone, and beyond:
Concessions: Our twisted polyester is used for reinforcement in the manufacturing of beverage hoses.
Footballs: Service Thread products are used in the stitching of footballs to bind the panels together, add strength and abrasion-resistance.
Outdoor Athletic Equipment: Our threads and yarns are used to manufacture nets, storage bags, padding and more.
Tarp: Tarps are sewn together and reinforced using our industrial thread.
Synthetic Turf: Some synthetic turf installation processes require the turf to be secured into place with industrial thread.
This infographic gives you a 50-yard line view of how Service Thread industrial yarn and thread is represented in the sports equipment market and how it helps your favorite team win. Take a look!