Industrial sewing thread is quite different from the thread that is typically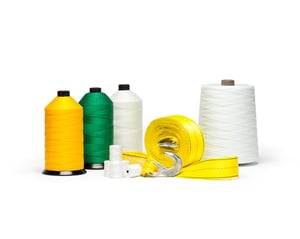 used in garments and apparel. If you're looking for household sewing thread, we'd like to direct you to Walmart, Michael's, or another household thread supplier.

Not sure which is which? Here's a look at the main differences between industrial sewing thread and household sewing thread, plus some tips on choosing the right thread for your application.
What is Industrial Sewing Thread?
Industrial sewing thread is tougher and usually larger in thickness than other types of thread, including garment-sewing thread. That's why industrial thread can handle the demanding conditions of industrial sewing, including multidirectional sewing and operating at extremely high speeds.

You'll hear many names for the various types of industrial sewing thread. Terms like polyester and nylon refer to specific fibers, however, they are generic terms and are not brand names. Nylon 6 and nylon 6,6 are part of the nylon family of polymers and are commonly chosen for industrial applications.

DuPont™ Kevlar® and DuPont™ Nomex® are two examples of brand names that are owned and patented by DuPont™. There is also a family of industrial thermoplastic threads known as UHMWPE, which includes brands like Spectra® and Dyneema®. All of these threads are primarily for industrial use.

Industrial sewing thread is often treated with a special coating that allows it to be used in a manufacturing environment. This is why you'll see industrial sewing thread labeled as bonded or unbonded depending on whether it has a coating.

Industrial thread can be flame retardant/resistant for processes with heavy abrasion or end-uses with a high risk of ignition. Many types of tough industrial sewing threads are preferred for military use under the Berry Amendment.

In some cases, industrial sewing thread is used in the garment industry to make shirts, jeans, pants, socks, and more. A number 554 bonded nylon used for stitching a sling is an industrial sewing thread, and so is a cone of red-orange poly-wrapped poly-core that might be used to sew the seam or pocket on a pair of jeans. A number 33 soft or bonded polyester thread used for multidirectional sewing on a quilt is also an industrial thread.
What is Household Sewing Thread?
Household sewing thread is softer, less durable, and smaller in thickness than industrial sewing thread. It's more prone to shedding and breakage, which makes it suboptimal for industrial sewing. It's also designed to appeal to the eye and feel pleasing to the skin, with a delicate, supple texture that suits apparel.

Typical household sewings threads include silk, rayon, and soft cotton. Even the toughest household thread is still thin and soft compared to industrial sewing thread.

In a garment-sewing operation, the machines might look like they're running fast, but they're slow compared to industrial sewing. An industrial sewing operation runs at extremely high speeds with high multidirectional tensions. Under tension, household recreational sewing thread can easily break and bring production to a screeching halt.
The Impact of Packages/Put-ups
One difference between industrial sewing thread and household sewing thread is the size of the put-up/package. The put-up is a small flanged spool, king spool, cone, or tube, and is similar to what you may see in the craft section of a store like Walmart or Michaels.

Spools typically have less thread on them than a cone or tube, possibly only 100 to 400 yards for an all-purpose 100% spun polyester thread. Depending on the thread size, domestic cones or tubes may have up to 600 to 2,000 yards. Your sewing machine design will determine the size of put-up you can use, if you do not have a separate thread stand.

Household thread is generally designed for small home projects related to repairs, crafts, quilting, home decor, and fashion sewing. These projects may involve the use of thread sizes from tex 16 (extra-lightweight) to tex 300 (extra-heavyweight).

The thread construction can be 100% spun polyester, blends of polyester and cotton, poly-wrapped poly-core (PWPC), or cotton-wrapped poly-core (CWPC). For household projects requiring fine thread with a higher breaking strength, continuous-filament polyester and nylon threads are available on tubes or king spools in sizes tex 15 to tex 180. Textured polyester and nylon threads are also available for various uses.

Industrial thread is supplied on larger put-ups. Spun threads are typically 6,000-yard or 12,000-yard cones. Bonded and soft continuous filament nylon and polyester threads are supplied as one-pound, two-pound, or four-pound king spools or six-pound cones. These larger put-ups are designed for long runs and for the production of multiple products.
Tips for Choosing the Right Thread
In order to choose the right thread for your operation, we suggest that you follow this process.
Evaluate your application, especially considering the end-use of products.
Determine your production facility standards for speed, breakage, and so forth.
Decide whether you will require industrial thread or another type of thread, like household sewing thread.
If you are seeking household sewing, please try Walmart, Michael's, or another household thread supplier.
If you are seeking industrial thread, we encourage you to review Service Thread's additional blog posts on this topic and contact us for more information. Service Thread offers industrial thread that typically starts at tex 40, in medium weight up to heavy. We do not supply lightweight threads and other threads for domestic needs.
We have many industrial thread experts on staff, and we're always here as a resource for our customers. Please contact us today.