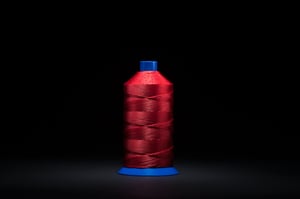 It's important to evaluate whether you should be using a bonded or non-bonded thread in your industrial sewing process. For manufacturers, each type of industrial sewing thread or yarn has its own set of advantages and disadvantages, so let's take a closer look at each option and which might be right for your application.
About Non-bonded Industrial Thread
Non-bonded industrial sewing threads and yarns are minimally processed. These products are often labeled as soft threads due to their appearance. Although these soft threads don't go through a coating process, they're usually conditioned and heat-set before final winding to prevent the individual ends from opening up when cut.
Soft, non-bonded thread and yarn are most suited for slower processing speeds where multi-directional sewing is not required. When your manufacturing involves long unidirectional sewing patterns, adequately lubricated non-bonded thread and yarn may be processed at high speeds. In many instances, soft sewing thread can also be used as a bottom thread.
A non-bonded thread has the advantage of being widely available at a lower cost than bonded thread and may work well in sewing processes where you need a large quantity of reasonably-priced thread without the demands of high tension, high speed, or abrasive/thick materials.
About Bonded Thread
If high-speed multi-directional sewing is part of your process, use bonded thread to prevent snags and cuts. Bonded thread has a resin coating that prevents the plies of the thread from opening up in the reverse direction and becoming clumped together.
The bonded coating of this type of thread creates a smooth, even finish that keeps the ends together with more cohesion and resists friction and abrasion. This means your industrial sewing process can take place at very high speeds, even with multi-directional sewing. An additional benefit of bonded thread is fray resistance for cut ends and slightly stiffer yarn that is much easier to handle for threading and needle applications.
Bonded thread and industrial yarns are a great fit for heavy industrial applications like the manufacture of geotextiles, synthetic web slings, heavy tarps, canvas, and automotive upholstery. Increasingly, bonded threads are used to replace soft yarns in the critical industrial manufacturing of fiber optic cables and wires as ripcords, binders, or strength members. Other uses include heavy stitching applications that require light product weight overall, like automotive airbags, lifting slings, tie-downs, rock climbing gear, sporting equipment, and parachutes.
Here's How to Choose
In order to choose between bonded and non-bonded thread for your industrial sewing operation, you'll need to take all of the following factors into account:
The speed of your industrial sewing process
Whether your sewing is unidirectional or multidirectional
The importance of a perfect, flat seam
How thick and tough the stitch needs to be
How heavy the material is
The amount of friction and abrasion the material causes
We recommend that you learn as much as possible about the specs involved and how they relate to your application. Look at critical parameters such as denier (thread size), strength, and elongation at break.
To learn more about industrial sewing with bonded thread, read our previous blog post, Why Do I Need Bonded Thread For My Process? Or if you need more assistance with choosing a thread that perfectly suits your needs, Service Thread is happy to help.
Service Thread has experts on staff who can explain the qualities of bonded and non-bonded thread so you can always make an informed choice when you buy from us. Please contact us for expert advice and some of the highest-quality bonded and non-bonded industrial sewing thread in the world.