As an industrial thread supplier committed to developing smart, adaptive solutions,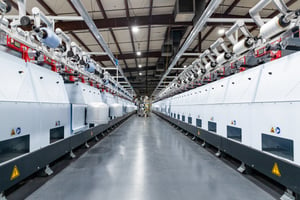 we discovered that we needed a versatile twister that could adapt to the requests of our clients across an incredibly vast array of industries.
At Service Thread, we are problem-solving oriented, which means we are frequently asked to create all kinds of threads and yarn to meet a variety of needs for our customers who manufacture hose, wire & cable, industrial fabric, synthetic slings, tie-downs, and more. We needed a twisting machine that enabled us to solve problems for our customers, which meant that we were looking for solutions that would:
Aid our clients by processing faster and running longer

Implement forward-thinking technologies

Pass cost savings onto our customers

Give maximum production and material flexibility for those who need it
Our solution? We discovered that the Saurer TC2 Two-for-One Twister machine allows our Service Thread team to provide higher-quality products and expand our customer base because of the features of this equipment.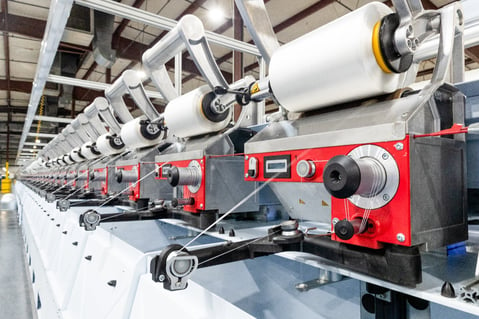 Why We Chose the TechnoCorder TC2
We have chosen the TechnoCorder TC2 premier twister for aramids and other specialty technical yarns. We pride ourselves on driving innovation, which means using the latest and greatest equipment available to provide unbeatable answers to meet the needs of our customers. That left us with a clear solution: the TechnoCorder TC2.
Reduced Ener
gy Co
nsumption
The TechnoCorder TC2 offers energy-optimized modern drives and slim thread balloons that make for a more balanced use of energy, lowering our costs for twisting — savings we can pass onto our clients.
The TechnoCorder employs the use of a balloon limiter ring, which also reduces the yarn tension and other factors like air drag. This means less energy is used to achieve a better outcome — less tension and better twisting.
These factors improve processing for high-performance yarn and thread processing.
High Production Flexibility
The TechnoCorder TC2's autarkic spindles offer a great deal more control (and more economical use of machines) when solving clients' problems.
Because the TC2 provides separate control of the spindle, capstan, traverse motion, and winding, as well as twisting positions, all of these elements can be adjusted and optimized to achieve the desired outcome for each individual client. We can even produce on-demand sample bobbins to test the performance of each industrial thread we create to allow for adjustment and fine-tuning.
So much of what differentiates our business relies on being able to pivot and tweak the thread we produce to meet the specific needs of our customers. The TechnoCorder TC2 gives us the power to do so.
Implements a Wide Range of Yarn Counts
Depending on the machine configuration, the TechnoCorder TC2 enables us to adjust the counts from 235 to 60,000dtex. Decitex, or dtex, refers to the measurement indicated the linear mass of yarn in grams per 10,000 meters.
Based on our research of other twisting machines, no other machine offers Service Thread the same kind of option to shift between such a wide range of yarn counts.
Unparalleled Production Speed
Another factor that made the TechnoCorder TC2 a clear choice for Service Thread is the speed at which we can produce thread for our clients. The TechnoCorder's delivery speed — up to 400 meters per minute — gives us the ability to customize threads and yards for our clients at a price and rate that makes sense for their needs and budget.
Increases Capacity for Twisting Specialty Yarns
The TechnoCorder TC2 twisting machine has been engineered as best in class for twisting aramids, ultra-high-molecular-weight polyethylene (UHMWPE), Vectran, and other specialty fibers. This is perfect for our applications, where each new client brings a unique challenge with needs for differing materials and counts.
Improved Spindle Design
Better spindle design of the TechnoCorder TC2 machine gives our team more economically-efficient processes and improved quality. A slim thread balloon and height-adjustable balloon thread guide make for more balanced use of energy and reduced twisting costs for our customers and for us.
This has helped Service Thread to become more competitive, take on new challenges, and collaborate to solve all kinds of problems and meet the needs of our customers across a wide range of industries and high-performance applications.
The Right Tool for Our Solution-Based Processes
Ultimately, the TechnoCorder TC2 has helped us to do what we have always strived to do. Our business isn't just about developing high-quality industrial yarn. We are constantly searching for ways to build partnerships. The TechnoCorder TC2 has helped us expand from offering a set list of products, and as a service-oriented company, that continues to be our top goal.
The flexibility of the TechnoCorder TC2 increases our capacity and ability to provide the highest quality innovative solutions in the industry. We are a global leader in developing and manufacturing engineered yarns and threads that match industrial demands. The TechnoCorder TC2 has helped us with our customers' processing and design challenges. Contact our technical team to discover more about our problem-solving methods.