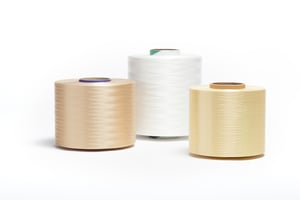 Meta-aramid and para-aramid fibers may be similar, but they have some significant differences. To better understand these differences, let's look at the physical properties of each of these and see how they compare to a commodity high tenacity polyester.
A Table for Comparison
We created the chart below to help you compare similarly sized multi-filament meta-aramids and para-aramids to show how they stack up against multi-filament polyester. Here is an overview of the properties of each of these materials.
| | | | | |
| --- | --- | --- | --- | --- |
| Properties | UOM | Nomex® T430 | Kevlar® T29 | Polyester |
| Yarn Size | Denier | 1200 | 1000 | 1000 |
| Breaking Strength | Lbs | 11 | 51.2 | 20.5 |
| Tenacity | g/d | 4.16 | 23.22 | 9.2 |
| Elongation @ Break | % | 23.12 | 3.36 | 14 |
As you can see, there are some significant physical property differences between these two aramid types and high tenacity polyester.
The Key Differences Between Meta-aramid and Para-aramids
META-ARAMID
Nomex® is the brand name of the best-known meta-aramid. It's related to nylon but is much more durable and abrasion resistant. Meta-aramids are medium to low tenacity materials that can be used in high-temperature applications where it is also important to resist chemicals and wear.
With its temperature threshold of 400 degrees Celsius, a meta-aramid can withstand massive flares in temperature and is excellent for flame-retardant applications. A meta-aramid is extremely resistant to heat, chemical degradation and abrasion, with a significantly higher elongation than a para-aramid.
Also, compared to similarly-sized high tenacity polyester or para-aramid, the overall strength of a meta-aramid is significantly lower than both.
PARA-ARAMID
Para-aramids like Kevlar® are highly resistant to chemicals and similar to meta-aramids, they stand up to extremely high temperatures. Para-aramids are far stronger than meta-aramids and pound for pound, a para-aramid fiber is stronger than steel. A para-aramid also has an outstanding strength to weight ratio, meaning it is exceptionally strong while still being very lightweight. Para-aramids also have a higher tenacity and low creep with very low elongation.
Both para and meta aramid are extremely expensive, so if the cost or color is a concern, talk to Service Thread about some lower-cost alternatives to explore.
HIGH TENACITY POLYESTER
Polyester is a widely-used material that is less expensive than aramid. It's readily available in the marketplace and comes in a wide variety of sizes, tenacities, and elongations. Dyeing is easy with polyester and there are a number of solution dyed options readily available.
Polyester will melt or burn when exposed to heat, so it's not the best selection for a high-temperature applications. Polyester is an excellent choice for many applications and is always worth considering due to its manageable cost and variety of property options. However, due to its inherent limitations in terms of temperature, give careful consideration before choosing it for temperature sensitive applications.
For More Information
Which looks best for your use - meta-aramid, para-aramid, polyester, or possibly another type of fiber? If you need help selecting the right fiber for your application, contact Service Thread for more information.