Unlike the September 2018 10 percent tariff, the additional 15 percent announced for shipments on or after May 10th may not have an immediate impact on the price of polyester yarn imports to the U.S.
According to the USTR's May 9, 2019 Notice:
"Products of China that are covered by the September 2018 action and that were exported to the United States prior to May 10, 2019, are not subject to the additional duty of 25 percent, as long as such products are entered into the United States prior to June 1, 2019."
The immediate impact on commodities was a different story in September when the 10 percent tariff was felt virtually overnight on shipments that were within sight of our U.S. ports. That unavoidable shock along with the fear of the threatened January 1 increase led to a predictable reaction of increased importing and near record volumes of polyester and other products from China in Late Q3 and Q4 2018.
Since September other regions have been increasing capacity of industrial filament yarn to meet the demand of U.S. manufacturers for alternatives to Chinese products. The chart below shows the relative DDP cost for a benchmark HT polyester filament yarn from Chinese, Indian, and Mexican sources, based on our purchasing data: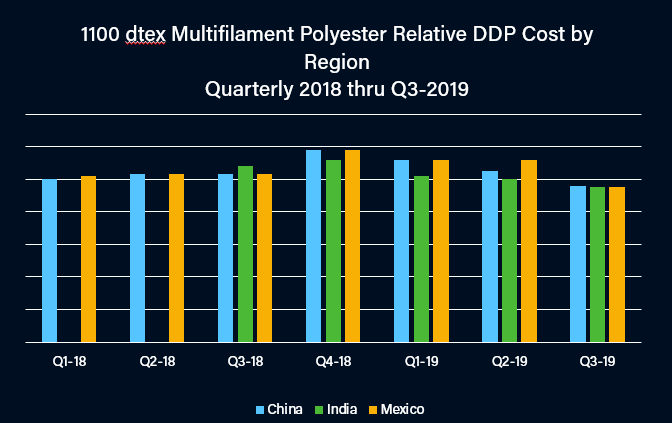 Notice that Q3 price quotes (pre- May 10th 2019 Action) had already reached parity in spite of the 10 percent from Q4-18.
To recap:
June 1st will be the earliest date importers of largely ocean freight cargos like industrial yarns are levied the additional 15 percent import tariff.
Negotiations continue between the USTR and Chinese representatives so something could change before the June 1st date impact date.
Alternative supply for most industrial yarns is increasing from other countries, primarily India.
Alternate region pricing may be affected by the new tariffs BUT supply and demand will be the ultimate cost driver.
For the near term, I'm recommending a wait and see approach. More information, including a process for obtaining exclusions from the additional tariffs may change supply chain strategy for U.S. Manufacturers who have been impacted by costs.