Because continuous multifilament polyester yarns are used in a wide variety of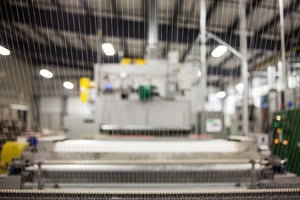 applications and conditions, polyester yarn manufacturers are required to have diverse product portfolios to accommodate them, including yarns in a wide denier range with various physical properties.
A common denier range is 110 – 6,000 for continuous multifilament polyester yarns. However, to meet the requirements of today's market, products often require much larger denier sizes and specific physical property types which ultimately depend on the application.

Characteristics of Multifilament Polyester Yarn Properties
Diverse manufacturer portfolios consist of products that offer a wide range of yarn properties:
High Tenacity (HT) yarns

have high strength and are used in high-performance applications.

Super High Tenacity (SHT) yarns

have even higher strength and higher optimum tensile performance.
The strength and elongation of yarn are important characteristics that enhance the end product and its operational life. As a result of the drawing and heat setting process, both HT and SHT yarns are often paired with a low elongation property, such as High Tenacity Low Elongation (HTLE) and Super High Tenacity Low Elongation (SHTLE) yarns. Low elongation yarns, in general, have high breaking strength and medium shrinkage.
Shrinkage is another characteristic of multifilament polyester yarn properties expressed as:
Low Shrink (LS)

Super Low Shrink (SLS)

Mid Shrink (MS)

High Shrink (HS)

High Modulus Low Shrink (HMLS)
Low shrinkage polyester yarn is used where both tenacity and low heat shrinkage are required.
Additional characteristics of multifilament polyester yarns include:
Abrasion Resistance (AR)

– Application of a finish to the yarn to withstand rubbing, abrasion, or friction from the manufacturing process and end-use surfaces.

Adhesion Activated (AA)

– Application of a finish to the yarn during the extrusion process that will promote adhesion to a thermoplastic or rubber tube or cover

Adhesion Treated (AT)

– Application of a treatment post extrusion that will promote adhesion to a thermoplastic or rubber tube or cover e.g., or Isocyanate treatments

Anti-Wicking (AW)

– Application of a treatment to resist wicking water or moisture into fiber bundles

High Denier Per Filament (HDPF)

– Reduction in the number of fibers in a bundle/filament allowing for higher deniers per fiber; offers better abrasion resistance for car seat belt webbing



Best Polyester Type for Your Application
To assist you with deciding on the product that best fits your needs, we have put together the table below that outlines some of the many applications for multifilament polyester yarns and the polyester property types that are commonly desired for each application.
| | |
| --- | --- |
| Applications | Desired Properties |
| Industrial Sewing Thread | HT, SHT |
| Industrial Webbing - Tie Downs, Slings, Tow Straps, Round Sling, Seat Belt | HT, SHT, High Denier Per Filament (HDPF) |
| Belts - Tire Cord, Conveyor, Transmission, V-Belts, Exercise | HT, HMLS, AA |
| Hose Reinforcement - (MRG), Automotive, Thermoplastic, Fire, Agricultural | HT, SHT, LS, SLS, HMLS, AA, AT |
| Geotextiles, Tarpaulins, Tents, Pool covers, Awnings | HT, HMLS, LS, SLS, AW |
| Industrial Fabrics - Coating & Laminating, Filter Fabric, Banners, Sail Cloth, Outdoor Textile Architecture & Furniture | HT, LS, SLS, HS, AW |
| Cable Binders and Ripcords | HT, LS, SLS |
| Stator Lacing | HT, HS, LS, SLS |
Service Thread is a global leader in developing and manufacturing engineered yarns and threads. We help customers who are having processing and design challenges, or material availability issues solve these problems by sharing our diverse experience, global supply chain partnerships and advanced material processing techniques.
Our technical team is always available to help you choose the best industrial yarn for your application. Contact us for assistance today!