Wire & Cable Manufacturer's Guide To
Industrial Yarn Selection
If you're a manufacturer of wire and cable, you understand the challenges faced when selecting binder, ripcord and strength member yarn to meet your cable specifications. This eBook will walk you through key considerations to selecting industrial yarn that best fits the quality you desire, your cable requirements and desired budget.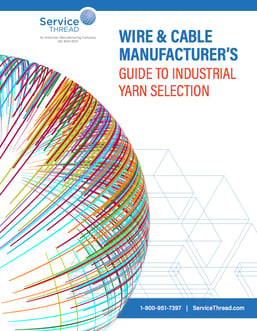 This guide will provide information about:
Materials Science for Industrial Yarns
Specialty Alternatives to Nylon and Polyester
Types of Ripcords for Wire & Cable Manufacturing
Multifilament Yarns and the Importance of Twist
Diameter and Gauge for Wire and Cable Applications
Yarn Treatment and Testing
Much more!
Get the guide now by filling out the form on this page.
You need services and solutions—fast.
We specialize in industrial textile products and services to fit your cable specifications, improve processing efficiencies, shorten lead times and never compromise on quality.
When you or your customers have questions or problems, we're there with technical assistance and material science.